Our history
QUALITY AND TREND IN KNITWEAR
The company was founded in 1962 by the current owner's parents, the term "LUBE" is born from the union of the surnames "Lunardi" and "Becarelli".
Claudio Lunardi, the current owner of the company, was born in Cerreto Guidi in 1947; since he was a child, he hasdeveloped a natural aptitude for knitwear by observing his mother working with the manual machine she was gifted by her father when she was still a child and which is still present in our offices today.
We are in the late 1930s: this makes us understand how much this tradition is rooted in time.
For about 25 years, knitwear woman articles and accessories for clothing industries production had proceeded in parallel; in 1996, thanks to Claudio's intuition to specialize only in knitted accessories and with the introduction of a yarn stock in the warehouse, the company underwent a deep transformation.
It was immediately clear that the company's greatest strength would be its promptness when responding to the clients' needs; along with the high quality of the products, these qualities became the flagship of the company.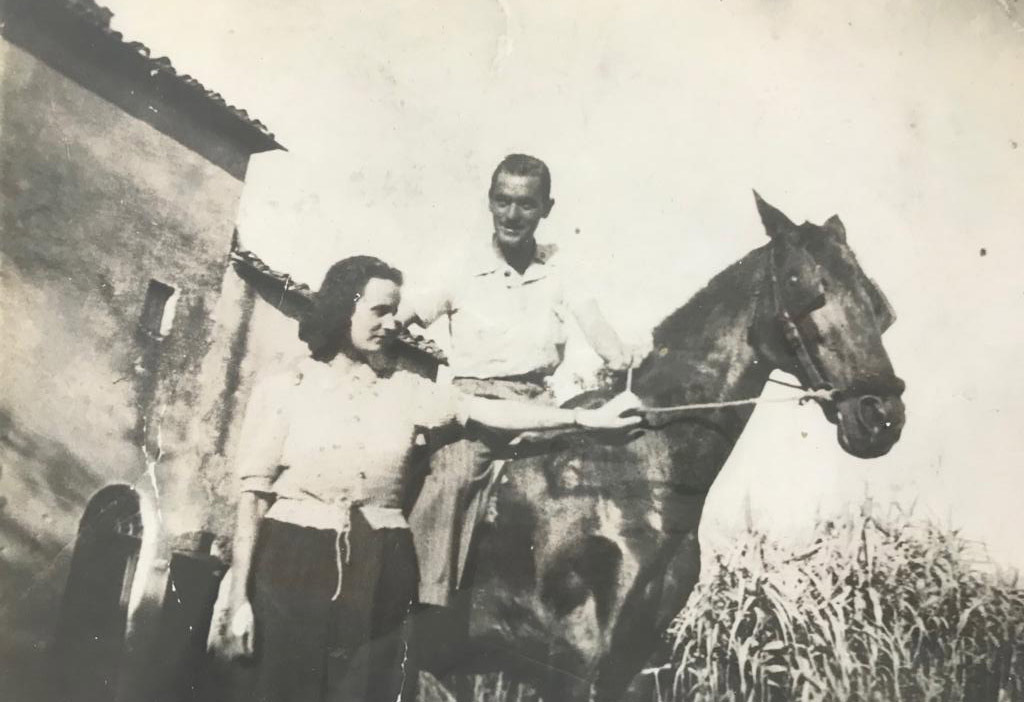 " The founders: Dino Lunardi and Rina Becarelli, 1945"
"Hotel Baglioni exhibition, 1974"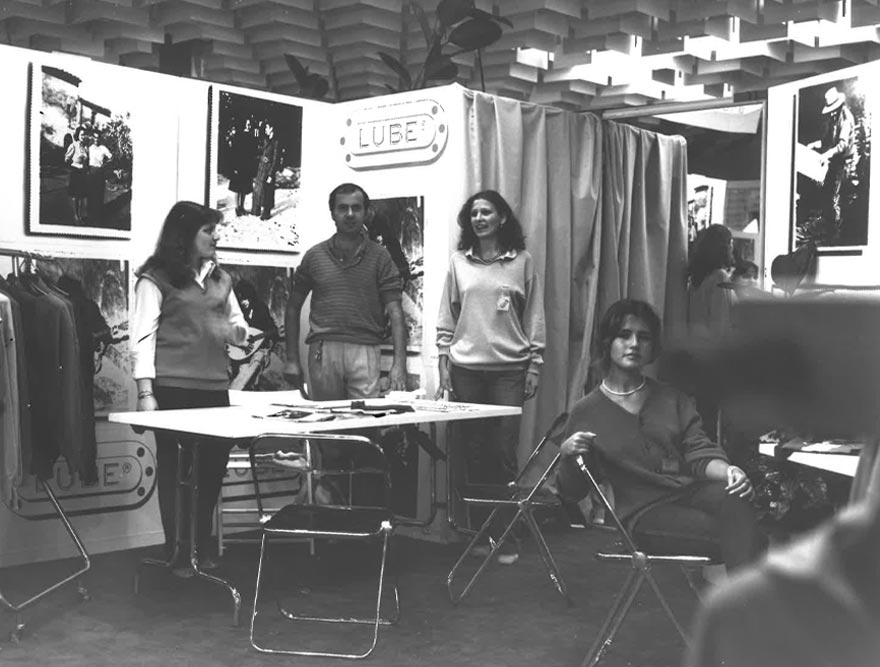 The family tradition is carried on by the owner's daughters Olivia and Vittoria, who joined in 2009 and in 2012 respectively, both as directors of the company.
Lube offers a study service of the product starting from the first stages of creation: we develop prototypes based on customer's ideas, we search for suitable yarns and colors available in stock or develops costumers' specific colors, up to the final stage of development of the product and its industrialization.
In recent years, the express service has been enhanced with the introduction of latest generation 4.0 digitized machinery and the increase of the stock yarns availability, all along with the constant training of specialized workers and the continuous search for novelties that the market offers. To make our service even faster, we have also introduced an interlacing machine, which allows us to give the elastomer different colors shades to match the color requested by the customer.
Today, Lube has over 20,000 kg yarn in stock in various compositions ranging from natural to technical ones and 45 machinery units, in several gauges, from J18 to J3.
All work processes take place within the company so that the supply chain is 100% monitored.
While maintaining tradition among its main values, today the company focuses on quality and trendy products. It is no coincidence that the current clientele is made up of the best international brands.
Lube has always paid special attention to sustainability, in fact the company is ISO9001 and OEKOTEX certified; moreover, with the SA8000 certification, Lube aims to be a socially responsible company by pursuing a policy of respect of workers' rights and health and safety at work, involving the reference stakeholders.
If you have any questions or want to collaborate with us, contact us using the form here.
Lube S.r.l.
Via Alfredo Catalani, n° 7/9
50050, Loc. Bassa Cerreto Guidi (FI)
Contact details
Tel.1 +39 0571 581181
Tel.2 +39 0571 581182